---

Chair of judging panel
Simon Flowers - LBW Business + Wealth Advisors
Simon Flowers is a Principal of LBW Business + Wealth Advisors dealing with Taxation, business advisory and superannuation matters. He is a fellow of CPA Australia, Chartered Tax Advisor with TIA, Affiliate member of CNAAZ, Member of NTAA and an Authorised Representative of Lonsdale Financial Group Ltd. Simon has been a Principal of LBW for over 10 years and prior to joining LBW was a manager at PriceWaterhouseCoopers in Melbourne. Simon has been involved in the judging of the Geelong Business Excellence Awards for the past 12 years (6 as Chair of the judging panel). He has also been a member of CPA Victorian Public Practice Committee (including Chair), a past member of the ASIC Business Advisory Committee, past member and past chair of the CPA VICPAC taskforce and has represented CPA Australia at ATO meetings. He has also presented at CPA events on tax and superannuation matters. Simon is currently a CPA Quality Assurance reviewer with CPA Australia. Simon has a Bachelor of Business from Deakin, Diploma of Superannuation Management, Diploma of Financial Planning and Maters of Tax through University of Melbourne.
---

Amelia Trethowan – Adelia Fine Foods
Owner and Director of Adelia Fine Foods and Bellarine Brownie Company, specialising in artisan food manufacturing and packaging.
Amelia has a Bachelor in Formulation Science (hon) from Monash University and Program Management Professional (PMP) from Project Management Institute. Working in the pharmaceutical industry for 12 years, Amelia held roles in formulation science at Acrux (an Australian biotech company), before transitioning into finance and quality assurance. These roles led her to Pfizer (formally Hospira), where she moved into program management and led several global teams, taking pharmaceuticals from laboratory scale to commercial launch.
Adelia Fine Foods has entered the GBEA every year since launch, giving Amelia first-hand experience on how the process has supported their business. This is Amelia's first year on the judging panel.
---
Daniel Goldsworthy - Deakin Law School
Daniel Goldsworthy is an academic with Deakin Law School and is admitted as an Australian Lawyer in the Supreme Court of Victoria. He is currently undertaking his doctorate at the University of Melbourne. Daniel also sits as a tribunal Chairperson for Basketball Victoria.
Daniel was formerly a lecturer at Victoria University, Member of that law faculty's Executive Committee as well as appointed Member of the University's Academic Board.
Daniel has published in diverse areas including constitutional law and theory, public international law, animal welfare law and sentience, legal education and philosophy, anti-doping regulation, amongst others. He has been awarded for his writing on the intersection of legal education, technology and philosophy.
Prior to academia, Daniel worked as a solicitor in civil litigation, property and commercial law. He was formerly a non-executive director and company secretary of an international environmental not-for-profit organisation.

Jodie Dunn - Envisage HR Solutions
Jodie Dunn, Director and Principal HR Consultant of Envisage HR Solutions, has over twenty years of HR / Management and Recruitment experience in various Senior HR, Consulting, Management, Advisory and Recruitment Management roles. Jodie's philosophy is simple. She is passionate about People. She is a well-qualified, experienced, and business focused professional with a proven ability to mentor, coach and drive optimal performance and productivity of a team at an operational and strategic level. Jodie works closely with her clients on Retention Strategies, HR Audits, DiSC Profiling, Organisational Restructures, Employee Engagement Surveys, Performance Reviews, Career Progression Plans, Workforce Strategies, Developing HR Strategies, Performance Management Strategies, Improving Culture, Leadership Mentoring and Coaching and Recruitment to name a few. Jodie has led many successful teams, and combined with her HR, Leadership and Recruitment Consulting skills, guarantees her clients receive wide ranging HR Services.
---

Kate Kent - Kate Kent Consulting Services
Kate has worked in various roles within the government and non-profit sectors and has than 20 years of experience in marketing, fundraising and communications. Kate's former position was General Manager and Co-Founder of Geelong Mums, prior to this she was the Manager of Trusts and Grants at Bethany Community Support. Kate's career began as a Journalist with the Leader Newspaper Group, after this she began a communications role at the City of Casey. As a consultant, Kate has worked at Barwon Health, WorkSafe, Colac Area Health, Bethany Community Support and Neighbourhood Houses Barwon. Kate also volunteers in the education and non-profit sectors. Kate is a 2017 Corporate Social Responsibility Award Winner through her work at Geelong Mums.
---

Keelie Hamilton - The Gordon
Working with the business community in the Geelong region for over 20 years, Keelie has been involved in the development of the business landscape through substantial periods of change and transition. With a background in Local Government, Keelie has been involved in service delivery, planning for growth, business development and major projects in this region. Her current role as Director Student and Industry Engagement at The Gordon delivers capacity in economic growth though development of workforce skills and capability. Keelie holds tertiary qualifications in business, tourism management and economics with current committee and volunteer roles including WynBay LLEN, The Werribee Learning Centre and Northern Futures Community Advisory Committee.
---

Mark Wilken
Mark is an experienced and qualified Human Resources practitioner with over 20 years' experience, and has led Human Resources teams in various industries such as Manufacturing, the Victorian Water sector, Not for Profit and Public Health.
Mark's professional philosophy is based on building strong organisational cultures through positive psychology and strong behavioural alignment, that then drive attaining core business objectives. His expertise covers Cultural Engagement and Alignment, Industrial and Employee Relations, Change Management, Talent Acquisition, Health & Wellbeing and Organisational Development. Mark is a qualified Executive Coach and various personality and behavioural profiling tools.
Mark is Geelong born and bred, and has a strong connection to the community through previous and current volunteer roles including the Samaritan House Geelong Board, Marshall Cricket Club Committee, St Mary's School Board and Sacred Heart College Policy Sub-Committee. Mark has also served on Boards of national charities including the Chase and Tyler Foundation.
---

Nicola Wojcik - WorkSafe
Nicola has lived in Geelong for 16 years and has worked in Geelong for almost 4 years. She very quickly established an understanding of the Geelong business community through her role as Manager, Stakeholder Engagement & Communications for WorkSafe. She played a large part in the project team for integration of WorkSafe to Geelong and was heavily involved in all local partnerships. She is now the Manager for Strategic Health Programs with a current focus on silicosis. Nicola spent the majority of her childhood in Perth where she completed a degree in Asian Studies, with a double major in marketing and Japanese. She has spent time in the energy, water and mining sectors and in trade & investment with those roles seeing her work in Perth, London, Port Hedland, Melbourne and now Geelong. She loves to be active and takes her love of sport to the Boardroom where she is entering her 4th year as a commissioner for AFL Barwon. She has been involved in the judging for the Give Where You Live grants, Pako Festa and enters her second year as a GBEA judge. Outside of working life, Nicola enjoys spending time with her family, reading and traveling.
---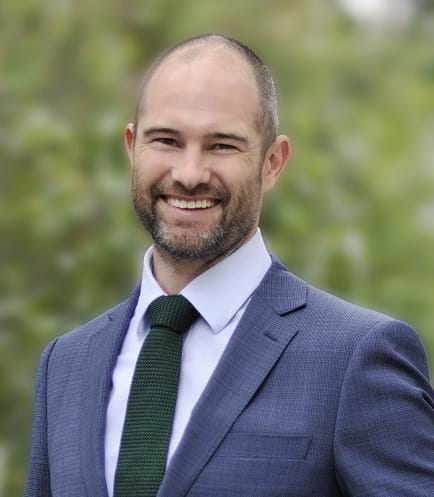 Paul Gray - Harwood Andrews
Paul brings experiences as in-house counsel, private legal advisor and business owner to his role as a Principal Lawyer with Hardwood Andrews. He has previously managed the legal function for Telstra's marketing and media portfolio, enterprise and government sales and legal technology transformation. Before that, he managed a heady mix of operational and strategic matters as the inaugural manager of a start-up sports engineering business with operations across Asia, Europe and North America. Aligning with his philosophy that good professional advice can be transformative to business, being involved with the Geelong Business Excellence Awards provides an opportunity to celebrate the talent and hard work that enable businesses to grow from good to great.
---

Peter Temple
Peter Temple is the General Manager of the Torquay Bowls Club. With a background including roles in sports coaching, policing, allied health, publishing, hospitality, management consulting and sports administration, along with not-for-profit board positions in youth welfare, education, drug and alcohol, the arts, tourism and public health, Peter's diverse management experience allows him to assess businesses from a unique perspective. He has worked as an entrepreneurial sole operator, the proprietor of small enterprises, the manager of a family business, and in operational management roles both medium sized enterprises and large multinational companies. Peter holds tertiary qualifications in management, finance and economics.
---

Steven Davis
Steve is a Senior Business Banking Manager with Bendigo Bank based at the Ryrie St Geelong Business Centre. He has been with Bendigo Bank for almost 10 years since relocating to Geelong from the South Eastern Suburbs of Melbourne. Previously over 30 years with Westpac Banking Corporation holding Senior Commercial Banking Roles ,managing a diverse range of business customers. Enjoy the opportunity to assist customers grow their Businesses and the importance to understand how they operate and the challenges involved , this together with strong relationships are extremely important for all to achieve their goals and be successful.
This will be Steven's first year on the Judging Panel of the Geelong Business Excellence Awards and he looks forward to the opportunity and being able to use his many years of experience working with Business Owners to assist with continue the success of these Awards
---

Tina Perfrement - City of Greater Geelong
Tina Perfrement has worked with businesses and the public sector to improve performance through sustainability, in Australia and the UK. Her approach is both strategically driven and practically focused; this is reflected in her achievements over a 19 year career. Tina has been involved with developing markets for sustainable goods and services for most of her career. Most recently she's been working on a partnership program to inspire opportunities for clean technologies through her work at the City of Greater Geelong. The Cleantech Innovations Geelong program has resulted in job creation, skills development, and business expansion outcomes for the Greater Geelong economy.
---

Tony Spence - Prestige Jayco
Tony Spence, Director and General Manager of Prestige Jayco (Geelong & Bendigo), a family owned company that's been helping Geelong families for over 30 years. Previously Tony worked with Australia Post for over 20 years in various roles in both Mail Centre and Delivery departments and has studied at Deakin, Victoria University and Harvard.
Tony is in his third year as a judge for the Geelong Business Awards after being a long term entrant with Prestige Jayco.
---

Victoria Murrihy - Retired Business Owner
Victoria completed her Bachelor of Business in Accounting at RMIT. She commenced her career as a Tax Assessor with the Australian Taxation Office. After 10 years with the ATO, Victoria then pursued an opportunity in the Motor Vehicle Industry working as an Accountant for Werribee Mazda from 1988 to 1994. In 1994, the opportunity to start up a successful Ford Dealership in Hoppers Crossing presented itself and her position as Director/ Financial Controller of Westpoint Ford spanned the next 25 years.
This is Victoria's first year as a judge after being an entrant in the Wyndham Business Awards for many years.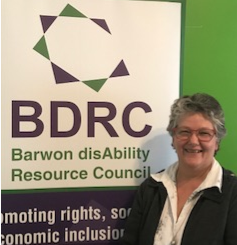 Glenda Dowling - Barwon Disability Resource Council
Glenda Dowling has over 19 years' experience at Barwon Disability Resource Council (BDRC) involved in access issues and was formerly involved in the event industry. Glenda has been a key team member of the then BDRC/Alcoa Access Awards and assisted development of a model for accessible event organisation. Glenda's access work has also included assistance for business and compilation of BDRC/City of Greater Geelong's Access Map and Mobility Directories.
---