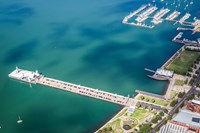 The Awards are open to all businesses and/or individuals that meet the following criteria:

The business/organisation must operate on a local, regional, state, national or international level, with a significant base in the Geelong, Bellarine, Queenscliff, Surfcoast or Golden Plains regions.


The business must have been registered and operating in the region before April 1, 2019.

The business will be judged on its operations during the period April 1, 2018 to March 31, 2019, while any achievements dated from April 1, 2017 onwards will be recognised at the discretion of the judging panel. Additional advances or recognition received during the April 2020 to June 2020 period will be taken into account at the discretion of the judging panel.

Award sponsors and/or their various divisions or departments may enter categories that they are not sponsoring.

Core Criteria 1-5 for business entries must not exceed 2250 words. The Business Summary is an additional 250 words. Businesses that exceed the word limit will be ineligible to win an award

For the individual awards, answers to questions 1 and 2 must not be more than 500 words each. Character references to be between 100-500 words.